US election 2020: Pence Still Campaigning In Spite aide's Covid Diagnosis
US election 2020: Pence Still Campaigning In Spite aide's Covid Diagnosis
US Vice-President Mike Pence plans to maintain a busy election campaign schedule despite being exposed to a senior aide who has tested positive for Covid-19, his spokesman says.
Donald Trump's running mate will not isolate despite being a close contact of Marc Short, the VP chief of staff.
Mr Pence and his wife both tested negative on Sunday, his office said.
With infections hitting record highs, Covid-19 is at the centre of the campaign ahead of the 3 November vote.
About 59 million ballots have already been cast in early voting, a record figure largely spurred by the pandemic.
ALSO, CHECK US Presidential Polls: Trump Campaigns In Key State Pennsylvania
Mr Trump's Democratic challenger, former Vice-President Joe Biden, holds an average eight-point lead in national polls. But the race is much closer in several important swing states.
What is happening with Mike Pence?
Mr Pence – who leads the White House Coronavirus Task Force – and his wife, Karen, remained "in good health", his spokesman Devin O'Malley said in a statement.
"While Vice-President Pence is considered a close contact with Mr Short, in consultation with the White House Medical Unit, the vice-president will maintain his schedule in accordance with the CDC [Centers for Disease Control and Prevention] guidelines for essential personnel," he added.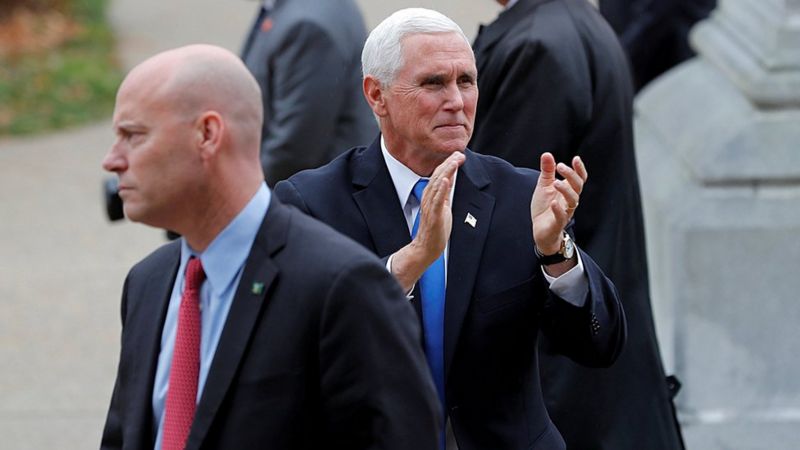 Speaking on CNN, White House chief of staff Mark Meadows said Mr Pence continued to perform "essential" duties as vice-president but did not explain how his campaign activities could be classified as "essential".
Pence Still Campaigning In Spite aide's Covid Diagnosis
Mr Pence was seen wearing a mask as he returned to Washington DC following a day of campaigning in Florida on Saturday, and after the news of Mr Short's diagnosis was made public, AP news agency reports.
Earlier this month, Democratic vice-presidential candidate Kamala Harris temporarily halted her campaign travel after two members of her staff tested positive. The campaign said it was a precautionary decision as the pair were not considered to be close contacts of the senator.
ALSO, CHECK US election 2020: A really simple Guide – BBC
Meanwhile, media reports say Pence adviser Marty Obst and at least two other members of staff have recently tested positive. The cases have raised questions about White House Covid-19 protocol, three weeks after President Trump was admitted to hospital with the virus before making a recovery.
The vice-president held a rally on Sunday afternoon in Kinston, North Carolina.